Betna: A razor-like focus to triumph and support helped me defeat TB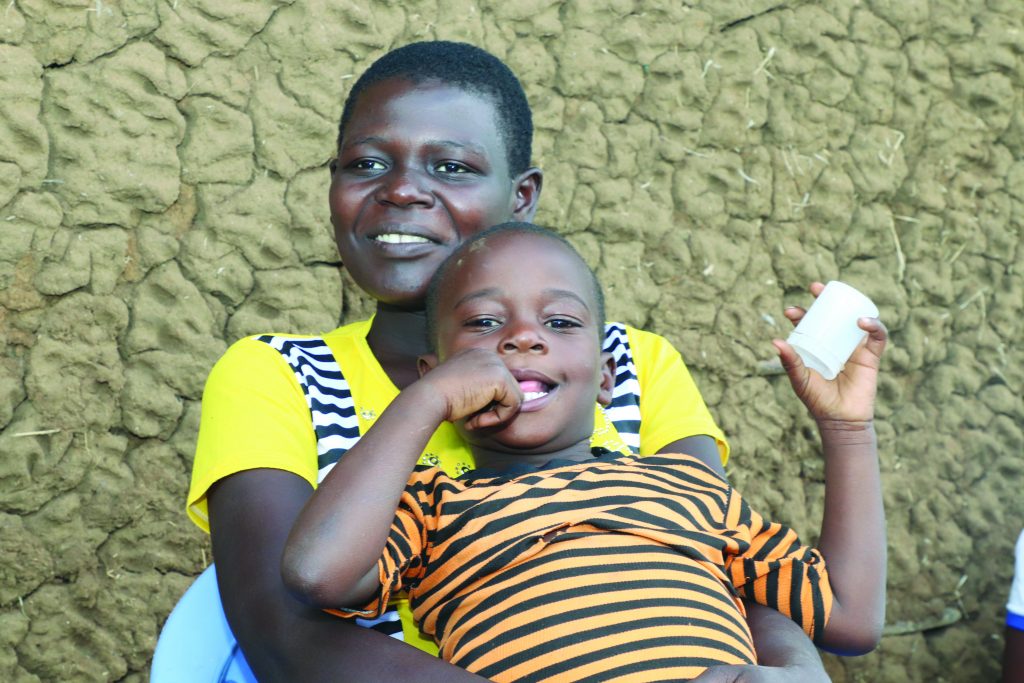 Betna's story is about hope and despair and how to cultivate the fortitude that buoys a person to the positive side of life; ensuring one doesn't drown in the storm of desperation. Through her fighting spirit, we are able to see the shining beacon of hope: TB is curable.   
At 13 years and in class eight, she was looking forward to sitting for her Kenya Certificate of Primary Education examination. Unfortunately, sickness was about to dim her light to success as she was ill.    
According to her mother Evelyne, several health care workers used to say that Betna was suffering from Ulcers. At times, she was advised to get pregnancy tests because she was vomiting a lot. Others thought because she was scrawny, she had probably mingled and slept with boys and as a result contracted HIV/AIDS, thus her alarming weight loss. 
"These misconceptions delayed her TB diagnosis and treatment for two years. She visited Bungoma Hospital, but they couldn't establish with certainty what ailed her. When they did a chest x-ray and she was diagnosed with TB, her condition was critical and her lungs were found to have decayed", says Evelyne. 
"After the diagnosis, she was referred to Khalaba where, again, she was referred to Matungu and initiated on TB treatment for six months".  
Besides the severe loss of weight and vomiting, Betna had other TB symptoms such as cough, severe chest pains when coughing, feeling tired and always sleepy. She would also complain about headaches and itching eyes. 
When she was finally diagnosed with TB, her worries lessened. "I was relieved; I had been thrown to the deepest end and I couldn't swim. I had been to many hospitals, used a lot of drugs and I wasn't getting any better. I just wanted to die. I felt it was better for angels to take me home. I had given up and resigned my fate to death". 
To her family, the diagnosis took off the anxiety that tormented them for two years, puzzling out what was affecting their loved one. "We were relieved because what ailed her had been identified and she could now be treated. We were relieved of the agony of many futile tests because everywhere we went for medical examinations nothing was found", says Evelyne.
She adds, "The number of times Betna visited Bungoma Hospital before it was established she had TB are countless. The moment they did a chest x-ray, that is when she was diagnosed with TB and initiated on treatment".
This treatment wasn't successful as she faced a lot of challenges. She persistently vomited and was terribly weak, hence wasn't able to walk to the hospital. Although, doctors and other Medicare workers closely monitored her progress and availed to her provisions like nutrition supplements, the first phase of her TB treatment failed and thus put on Multi-Drigu Resistant (MDR) treatment that included tablets and injection. 
Whilst she was initiated on MDR treatment, Betna had already come into contact with her baby brother who was diagnosed with TB adenitis. Prior to their treatment, her mother says she had gotten them over the counter drugs. 
The medical team sought Betna's head teacher's permission to allow her to stay home due to the daily injections.  Though she was allowed to be off school for medication, her teachers and colleagues shunned her even after treatment. She was chased away from school when she went back to sit for her class eight exams. 
 "I felt bad that my friends were sitting for an exam that I also spent so much of my time preparing for, but was denied that chance. They couldn't even allow me to sit for the exam alone from other students! But even then, I felt bad at the thought that I couldn't freely be with other students, but now I'm very much okay, I am thankful I don't experience this stigma", says Betna. 
The hospital wrote a letter to the school making a formal notification that Betna had completed her treatment and had been cured. Oblivious of the facts, the school refused to take Betna back and the mother opted to take her daughter to another school. Also, a request to conduct a mass TB screening in the school was declined. 
Her neighbours used to say she had HIV/AIDS. A claim they reinforced after reading the packets of nutrition commodities given by health workers. "people told her that the flour was meant for people with HIV and so she was HIV positive. The good thing is that she didn't give up, she continued taking the porridge. She joked that if that was the case, after taking this porridge together with drugs people with HIV get healthy and it is better that she remained healthy. And indeed today, Betna is healthy", says Evelyne. 
For a single mother of five who depends on subsistence farming and small business of selling fish for her family's livelihood, the monthly stipend that Betna got from AMREF after being initiated on MDR TB treatment was
a boon. 
Besides catering for Betna's food as she needed a special diet to help her recuperate, the mother saved some money and used it to pay for her school fees. "I would buy her the food she liked, however, we were prudent in our expenses. We used part of the money to pay for her school fee. We have cleared all her form three school fee.", says Evelyne. 
While commending the Ministry of Health for an excellent job in finding and treating TB cases through the National TB Program, Evelyne calls for civic education amongst educators and the general public on TB.